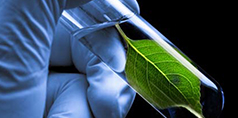 ECOTAN BIO 100 – green fingers at INAQUA
The treatment of waste water in sewage treatment plants is a complex process. With our new product ECOTAN BIO 100 we offer a liquid and organic flocculant on a purely natural basis: the extract is obtained from the bark of black wood acacia. ECOTAN is effective at pH-values from 4.5 to 8 and is particularly easy to use. As a cationic organic polymer, ECOTAN has a strong flocculant effect.
INAQUA allows the purification of waste water with a natural product – ECOTAN BIO 100.