INAQUA Vertriebsgesellschaft mbH is a sales partner of Everblue and supplies filter candles and housings in a wide range of versions. They range from the melt-blown candle to wound candles to the folded special candle for the beverage and food industry.
Filter candles
The candles are available as DOE, Code 3, Code 7, Code 7F and Code 8.

The filter housings are available in polypropylene and stainless steel (different qualities)

With the FilterBlue system we offer an 8" x 20" folded candle system in GRP pressure pipes. The system is available with 2, 3 or 4 candles in a pressure pipe. The extraordinary aspect is that the candles can be mechanically cleaned at least 500 times. For this purpose, the candles are simply pulled out of the pressure pipe and cleaned with slight water pressure (up to 6 bar). Separation limits of 1 µm, 5 µm, 10 µm and 20 µm are available.

We also supply backwash filters as manual or automatic filters. These are available in plastic and stainless steel. The filter finenesses range from 80 µm to 3,000 µm at an operating pressure of 1-10 bar.
FilterBlue
The highly efficient candle filter - system FilterBlue

consists of a filter housing FILTERBLUE and the filter candles
FILTERBLUE with / without FILSTAR support. It is characterized by:

simplest installation
modular construction
simple replacement of the candle filter
robust design
working pressure optionally up to 10 bar / 20 bar
small installation area
working pressure optionally up to 10 bar / 20 bar
corrosion-free even when used for seawater desalination

Selection of 3 candle filter types FILTERBLUE BATTERY 4x2x20

without FILSTAR for differential pressures up to 3 bar
with FILSTAR for differential pressures up to 6 bar
with FILSTAR + TEKBLUE for differential pressures up to 6 bar and min. 500 times washable

Can be cleaned at least 500 times
Filter separation efficiency 1 – 5 – 10 – 20 µm
Filter efficiency 95%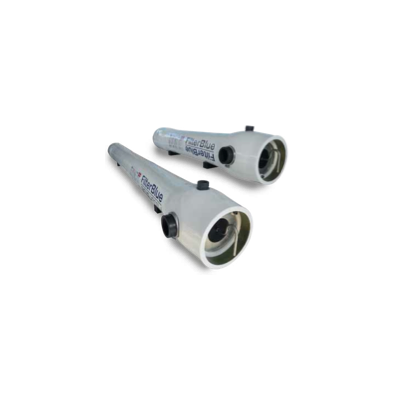 Self-cleaning backwash filters